Abstract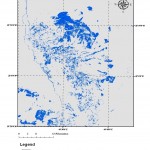 The marshes of Iraq's considers natural wealth  and which is gaining importance for their impacts to the environment and economic aspects, and HOUR-IBN NAJAM (or so-called HOUR-ABO NAJAM) is one of the important marshes in IRAQ,  this hour located in three provinces, Najaf, Babil and Qadisiyah.
The study area is located between longitude (44.20, 44.45E) and latitude (32.16, 32.50 N), covering an estimated area (2160 km²).
    Change detection is one of the most widely used processing techniques in remote sensing. It is a process of identifying differences in the state of a geographic feature or phenomenon by monitoring at different times.
In order to detect the changes after a phenomenon, used function Water Index (WI) to identify changes in water content of the Hour during periods of multiple time dates.
Landsat satellite data was used of sensors MSS for the years 1974.1992 and sensors TM 1984 and ETM sensors for the years 2006, 2003, 2009.
Using Arc GIS software we converted the results to thematic maps represent water index coefficient of water through multiple years, as well as the use of  Erase tool in the toolbox in the Arc GIS software in order to find out the increase and decrease of the water content of the Hour during the past years.
The results showed that there is an increase in water content of the hour in 1974 and 1984 and 1992 with an areas 210, 237, 219 km2 and a decrease between 2003, 2006, 2009 with an areas 52, 58, 74 km2, respectively.
Writer
ZEYAD JAMEEL AL-SAEDI
-        
Summery of Qualifications
1-    B.Sc.in Science /University of Baghdad-Collage of Science-Depts. of Geology- 1999.
2-    M.Sc. Specialist in Geomorphology & Remote Sensing -2009.
-  
Summery of Courses
1-    Negotiation – 2005 2-    Excel -2006 3-    Primary Arc GIS-2010
4-    Training of trainer (T.O.T)-2010 5-    Capacity Building on Remote Sensing and Geographic Information System For Iraq/held in Turkey-2011
-   
Professional Experiences
1-    Start work in State Company of water well drilling in (2001). Recently the name of this company is (General commission of groundwater). 2-    Recently work in National Center of water management since 15/3/2010. 3-    I have a research published in Iraqi Journal of science. Titled "Using Arc GIS to determine some landforms in Salman depression-South Iraq". 4-    Research published in Iraqi Geographical Magazine. Titled "Using NDVI algebra to identify changes in Ha'danya depression/South IRAQ". 5-     Research published in Iraqi Geographical Magazine. Titled" Remote Sensing and GIS Application in Land Cover Detection Study/ BAGHDA City Using Multi-Temporal Satellite Data".
6-     
Participate in First International Conference of Remote Sensing and Image Processing in research tilted "
CHANGE DETECTION IN HOUR-IBN NAJAM / MIDDLE OF IRAQ BY USING WATER INDEX (W.I) ALGBRA"
7- Lecturer for Remote Sensing Subject. 8 - Good user to Microsoft office (Word, Power point, and Excel) as well as the Internet.
9       -Experiences in Satellite Images & Remote Sensing.
-  
Languages
1-    Arabic (Native language)
2-    English
Full Research