Abstract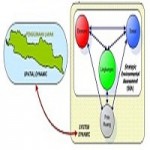 Nowadays, development planning in Indonesia needs to consider more spatial and environment aspects to reach sustainability development goal optimally. One of group islands located in Indonesia is Java-Madura-Bali, which it's improvement planning based on Sector which it's relation of one area to others still less be focused.  In supporting development planning system that focused on regional and sector aspects, supporting spatial data and approaching that integrated between dynamic and spatial system is more needed.
Planning based on system dynamic model shows each variable connected to certain area system can be determined one to others which this matter close to real situation. This Point of view would be remained us about real life that the connection of those variables is an object to occur the changes.
The approaching of system dynamic has done to obtain landuse needs based on simulation of behavior from phenomenon occur in a system. Simulation is conducted by inputting policy factor/ intervention (based on scenario used) to system dynamic model frame. The Change of policy will be influencing to other variable so it will be affected performance system in reaching a required landuse need.
Spatial model represent development behavior from spatial pattern of a region system. By Modelling Spatial, it can be used to simulate a goal in improving an area by viewing the changes that happened  periodically. By this case, it can be used to predict the beyond needs about the changes that probably happened in one area.. Spatial modeling Technic which is used based on raster analysis (grid-based spatial analysis). In every cell has a value representing many kind of location quality such as : elevation, slope, etc. Value change which is owned by cell is a main key in spatial dynamic model.   Probability model with regretion logic is one of technics that is useful to result grid probility. The Value of probility is determined by many kind of characteristic or variable that can be grouped as driving factors.
Spatial dynamic modeling result is focused to obtain land availability allocation which every grid  executing has done based on existing landuse (image satellite interpretation result and thematic maps) by using probability method consider some driving factors. Spatial dynamic analysis can show grid change (land allocation) time to time so that can be used also for forecasting and prediction in the next future.
Integration of system dynamic and spatial dynamic in developing Java-Madura-Bali Development Planning Model use waterfall method, generally called as System Development Life Cycle (SDLC) diagram. This diagram is designed to acquire a system to be flexible, adapting and can be develop following new technology trend.
The result is a spatial dynamic model of Java-Madura-Bali Islands as integration of system dynamic and spatial dynamic that show comparing between landuse needs and land allocation based on kinds scenario simulation.
Writer
Ferrari Pinem*, Sigit Purnomo*, Aris Poniman*, Suharto Widjojo*, Mulyanto Darmawan*
Ferrari Pinem*, Sigit Purnomo*, Aris Poniman*,  Suharto Widjojo*, Mulyanto Darmawan*
* National Coordinating Agency for Surveys and Mapping (BAKOSURTANAL)
INDONESIA
Full Research