Abstract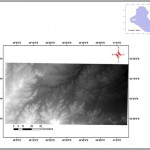 Lineaments can have significant impact on hydrogeology since they reflect evidence of zones of permeability and porosity. Additionally, it has been found that wells yields are significantly enhanced in carbonate rocks settings where wells are sited on fracture traces or fracture trace intersections. The study area lies west of Iraq with coordinates: (39° 53′ E, 33° 18′ N), (41° 5′E, 32° 47′ N), with approximate area of 6479 Km2.   Dem images with 90 m resolution were used in the research to create four shade relief maps with (0, 45, 90, and 135) azimuth angle. In addition data from nine wells represent the groundwater in study area were used. There was 1000 lineaments extract in the study area; classification was made of lineaments depending on length (short 976, medium 19, and long 5).  It is concluded that availability of groundwater in the study area occurs in locations that contain small number of lineaments, and that large number of lineaments gives a clue of deep groundwater because  lineaments are a passages that groundwater seeps through it.
Key words: Lineaments, DEM, Shade relief, Groundwater.
Writer
ZEYAD JAMEEL AL-SAEDI
-        
Summery of Qualifications
1-    B.Sc.in Science /University of Baghdad-Collage of Science-Depts. of Geology- 1999.
2-    M.Sc. Specialist in Geomorphology & Remote Sensing -2009.
-  
Summery of Courses
1-    Negotiation – 2005 2-    Excel -2006 3-    Primary Arc GIS-2010
4-    Training of trainer (T.O.T)-2010 5-    Capacity Building on Remote Sensing and Geographic Information System For Iraq/held in Turkey-2011
-   
Professional Experiences
1-    Start work in State Company of water well drilling in (2001). Recently the name of this company is (General commission of groundwater). 2-    Recently work in National Center of water management since 15/3/2010. 3-    I have a research published in Iraqi Journal of science. Titled "Using Arc GIS to determine some landforms in Salman depression-South Iraq". 4-    Research published in Iraqi Geographical Magazine. Titled "Using NDVI algebra to identify changes in Ha'danya depression/South IRAQ". 5-     Research published in Iraqi Geographical Magazine. Titled" Remote Sensing and GIS Application in Land Cover Detection Study/ BAGHDA City Using Multi-Temporal Satellite Data".
6-     
Participate in First International Conference of Remote Sensing and Image Processing in research tilted "
CHANGE DETECTION IN HOUR-IBN NAJAM / MIDDLE OF IRAQ BY USING WATER INDEX (W.I) ALGBRA"
7- Lecturer for Remote Sensing Subject. 8 - Good user to Microsoft office (Word, Power point, and Excel) as well as the Internet.
9       -Experiences in Satellite Images & Remote Sensing.
-  
Languages
1-    Arabic (Native language)
2-    English
Full Research