The Mouchel Urban Drainage Academy (MUDA) trains water industry professionals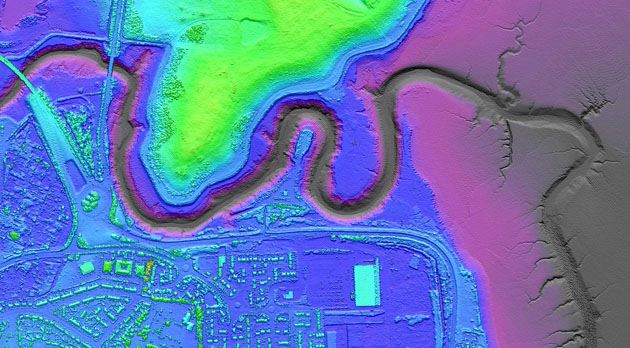 Aerial mapping company Bluesky is helping water industry professionals understand the potential of laser captured height models. Following a request from Mouchel – the international infrastructure and business service Group – Bluesky delivered their 'What is LiDAR' presentation at the Mouchel Urban Drainage Academy. Engaging with Mouchel staff, as well as key Water Company clients, Bluesky explained the principles of data capture, data deliverables and potential applications with a focus on urban drainage tailored to the audience's professional interest.
Feedback from attendees at the Bluesky LiDAR training session included; 'Really useful session, good to hear from a speaker with such a detailed knowledge of LiDAR', 'Good to understand the techniques of LiDAR data collection' and 'Great to hear about the potential future development of LiDAR technologies and how these could be of benefit to our industry'.
The Mouchel Urban Drainage Academy (MUDA) is the backbone of the Mouchel sewerage team's continued learning and development process. The Academy offers a programme of training days covering all aspects of sewerage modelling and its relationship to wider design, operation and asset management. The programme uses lectures, such as the one delivered by Bluesky, hands on training with key software, as well as individual and group exercises. In addition to developing key technical skills within Mouchel, MUDA is an important part of the company's effective client management with courses opened up to clients alongside Mouchel staff.
"The aim of MUDA is to ensure our staff become and remain technical leaders within the water industry," commented Martin Osborne, Technical Director at Mouchel. "We achieve this by providing awareness, knowledge and in time ability and experience in all of the key competencies required for Wastewater Modellers working towards Chartership."
"Presentations from outside organisations, such as Bluesky are an essential component of this on-going training," continued Osborne. "They allow us to benefit from the very latest technological advancements and industry knowledge while sharing best practice with professionals with vast experience in specialist fields like LiDAR."
Light Imaging Detection and Ranging (LiDAR) systems use aircraft mounted lasers to accurately determine the distance between the sensor and the ground or other targets such as buildings and vegetation. Applications within the water industry include Flood Risk Assessment/Planning, Urban Drainage, Infrastructure management and planning as well as 3D Visualisations, Viewshed Analysis and Vegetation mapping and management.



CONTACTS:
Reader enquiries to Bluesky on tel +44 (0)1530 518 518
www.bluesky-world.com