Abstract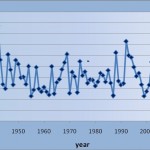 Iraq and Iraqi Kurdistan region are located in the south west Asia، responded to environmental change during last few decades caused drought conditions as a result of decreasingrainfall or / and precipitation in the area including Erbil governorate. Therefore an attempt was made to determine the mean of annual rainfall and temperature in Erbil city from 1941 to 2011 and 1974 to 2011 respectively.The aim of this study is to estimation theeffect of environmental change on rainfall and temperature of the area. The results revealed that the maximum amount of rainfall was 872.4  mm/year in 1945 and the minimum was 227.5 mm/year occurred in 1955 . The frequency distribution of rainfall as a histogram for 5 years intervals indicated that high rainfall of 569.98 was occurred in years 1941-1945.However  when  the amount of rainfall distributed between years, it is found that 36.61% was between 357–486 mm/year followed by 26.76%  between 229–356 mm/year. The mean, median, mode, range and skeweness was 411.4, 353.5, 438.9, 644.9 and 0.315 . As far as temperature concerned the similar ranked order was observed for the maximum temperature of 20.62 that occurred in year 2010 and the minimum temperature was 16.15  occurred in year 1992. The correlation between temperature and rainfall revealed  a weak  relationship ( R = – 0.11), indicating inverse relationship, that mean  rainfall was depended on temperature.
Keyword:Iraq, Kurdistan region, Environment,climate change,rainfall,
Temperature
Writer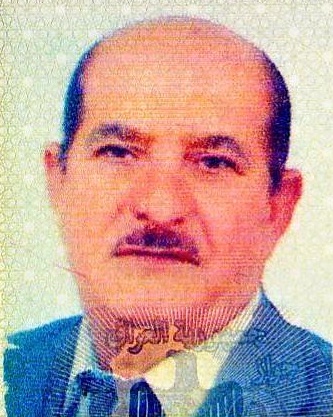 Farhad H. Aziz
B  iota
Dr. Farhad H. Aziz
 Biology Department
College of Science Dept. of Environment, Salahaddin University – Hawler/Iraq
Place and Birth date, Erbil, 1948. B.Sc., 1972,  Science, Agriculture / plant production, Sulaimaniyah D.M. Univ., Iraq. 1977, Science, Agriculture / agricultural  marketing, Sofia Instituent, Bulgaria. M.Sc  1985,  Science  ,  Biology,   School  of    Plant    Biology
.
U.C.N.W. Bangor-Cardiff   Univ., U.K. Ph. D. 1997, Science, Biology / Phycology and Ecology SalahaddinUniv.- Hawler, Kurdistan Region, Iraq.
Graduation degrees:
Assist. Lectural 1986. Lecural  1989 Assis.t  Prof. 1997 Prof.  27/ 4 /2012
Pour une biographie complète, s'il vous plaît cliquez ici
Full Research