Abstract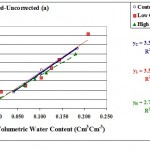 Abstract
         Chloride concentration and bulk density consider among important factors affecting calibration curve of neutron gauge in the soil. The aim of this study was to investigate the effect of chloride concentration and bulk density of the loam soil on neutron gauge calibration curve.
Sufficient amount of loam soil was air dried, screened, through 2mm sieve, and divided into three equal portions. Sodium chloride of 2.5 and 6.6 g  kg-1 soil was added to the first and second portions, respectively. The third portion was left as a control. The soil then moistened and mixed well to make volumetric water content equal to 0.01 to 0.24 cm3 cm-3.
The moist soil was packed into an iron drum 0.80 m diameter and 1.00 m height to obtain a bulk density of 1.10 and 1.30 to 1.60 Mg m-3 for un-compacted and compacted soil, respectively. Access tube of 0.05 m diameter was installed in the center of the drum. Three readings from CPN 503 neutron gauge were taken at each 0.15, 0.30, 0.45, 0.60, and 0.75 m depth.
Results indicated that the count ratio (counts/standard counts) for an aqueous solution decreased with the increase in chloride concentration. Similarly, the slope of the linear calibration curves of the investigated soil decreased with the increase in chloride concentration. Shifting of the curves was 9 to 10 % for the un-compacted soil, whereas it was 12 to 14 % for compacted of low and high concentration of chloride, respectively. Results of changing bulk density always reduced value of the slope for corrected as compared with the uncorrected count ratio.
Key word: Neutron gage, Chloride ,Calibration
Writer
Saifuldeen A.Salim
Center of Desert Studies
Anbar Univ.Iraq
Full Research