Abstract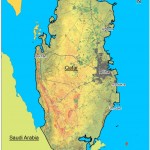 Qatar is an arid country with limited water resources. With no surface water and an average annual rainfall of 76 mm per year, Qatar relies on desalination to meet the increasing water demand. The groundwater aquifer receives less than 40 million m3 per year as natural recharge, whereas abstraction is more than 220 million m3 per year, mainly used for agriculture. As a result, the water table has dramatically dropped to unprecedented levels and salinity increased, in addition to other adverse environmental impacts.
In the light of Qatar's 2030 National Vision, three grand challenges facing the future of Qatar were identified. These grand challenges are energy, water and cyber security. Qatar Environment and Energy Research Institute (QEERI), which is part of Qatar Foundation, focus its efforts on addressing the grand challenges associated with energy and water. This paper focuses on artificial groundwater recharge, which is part of the water security grand challenges.
The urgency of this project arises due to scarcity of water, increasing demand, and fast depletion of groundwater. The country is fully relying on desalination to meet all of its domestic and industrial water demand, which has adverse environmental effects from burning fossil fuels used in water desalination and power production.
The overall objective of the Water Security Grand Challenge (WSGC) is to achieve water security in Qatar by having access to high quality, adequate, affordable and sustainable water that meets and supports it's fast expanding and evolving social and development programs. The WSGC programme includes three thrust areas: (1) water desalination, (2) water reuse, and (3) aquifer recharge from concepts to near market products. The specific goals of these challenges is to be achieved by 2020 are: to reduce desalination energy consumption and cost by 40%; to increase water reuse to more than 30% with minimal health risks and environmental impacts; and to raise water table in the strategic water storage aquifers to pre-1980 levels.
The groundwater recharge project aims at artificially storing water in the aquifer for future use. The stored water should be of acceptable quality (mainly desalinated water) and should be enough quantitatively to meet the domestic needs of the State of Qatar in case of an emergency. When completed, the recharge project will serve as a national secure water reservoir, which is not exposed to contamination or quick depletion. As Qatar relies completely on desalination to meet the increasing domestic, industrial and agricultural demands, introducing another source of water will increase the water security and will reduce the reliance on desalination.
This paper outlines the water situation in the State of Qatar and discusses the challenges in the way of water security grand challenge. It also presents the different phases of the proposed artificial recharge scheme over the coming six years.
Writer
Husam Musa Baalousha
Qatar Environment & Energy Research Institute (QEERI)
Full Research