Abstract
Groundwater is the main source of freshwater in Libya, providing a vital supplement to surface water sources. Groundwater availability and quality are; however, vulnerable to both climate change and over-abstraction, and in regions where the water table has lowered there has been a consequent impact on irrigated agricultures. This paper study the impact of water table change on agricultural areas as a part of the land cover in part of NW Libya during the period 1988 to 2000. Landsat TM data from 1988, 1992, 1996 and 2000 have been integrated with various thematic maps of the study area and with well/bore-hole data to assess the nature and extent of change. A supervised Maximum Likelihood approach was used to classify each image into land cover classes that were deemed sensitive to change in groundwater levels, rather than producing a map of all land cover classes present in the area. QuickBird (2002) and Spot 5 (2000) were used to aid selection of the training sets and to test the accuracy of the classified images, with resulting accuracies of over 80% obtained. changes in agricultural areas  are readily apparent, especially the reduction in citrus and other fruit cultivation, which require abundant supplies of irrigation water, (64.6% reduction from 2000 compared to 1988). There is, however, variability in the change observed, with those areas where groundwater levels have changed little not experiencing change in land cover / land use, reinforcing the perceived link between land cover change and groundwater levels. This was further demonstrated by a questionnaire survey distributed to farmers in the region. Results from the questionnaire analysis have confirmed many of the changes noted in the remote sensing results, as well as articulating the link between groundwater and changes in agricultural activity, helping to interpret the classes seen in a socio-economic context.
Writer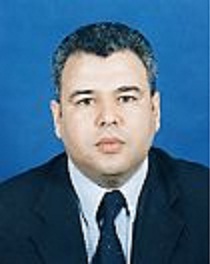 TAREK MOKHTAR EL ASWED
Research
My future research plans are to build on the foundation of my PhD to further develop models and tools in conjunction with government bodies, environment agencies. I have a particular interest in the hydrological, environmental and geological studies utilize remotely sensed data by different image processing methods and geographical information system.
Education
Jan 2005- June 2009, PhD: - Geography, School of Social Sciences, Dundee University, UK.
Project Title
: "Remote sensing the impact of Groundwater changes on Agricultural activities in the north-western Libya".
Oct 1997 – July 1999, MSc in Remote Sensing, Image Processing and Applications, Department of Applied Physics and Electronic and Manufacturing Engineering, Dundee University, UK.
Dissertation Title
: -"Urban Change Detection based on a Supervised Classification   Approach using Spot XS and Landsat TM Images".
Sep 1986 – Oct 1989, B.Sc. Soil and Water Engineering department, Agriculture college, Al-Fatah University, Tripoli, Libya.
Dissertation Title
: - Irrigation System designing
Work Experience
-    Jan 2011- in present, Full time job as a lecturer, teaching in remote sensing and geographic information systems, Geography Department, Art collage,  Az Zawia University. -    Aug 2010- Dec 201
0
, A director of Aerial photography and mapping department in Biruni Remote Sensing Center. -    Jan 2010- Jan 2011, Part time job as a lecturer, teaching in Earth sources and geographic information systems, Earth sources Department, Agriculture collage, Al-Fatah university, Tripoli-Libya -    Oct 2009- Dec 2010, Part time job as a lecturer, teaching in remote sensing and geographic information systems, Geography Department, Almrgbe University, Tarhona-Libya. -    Oct 2009- Aug 2010, full time as researcher in Libyan Remote Sensing Center and Space Science. -    June 2008- June 2009, Part time research assistant to a research group of Remote Sensing/Image Analysis, Environmental Science Division of Plant Sciences College of Life Sciences, University of Dundee. -    Mar 2005- May 2008 Demonstrator and teaching in Level 1 Environmental Science (IT induction), and Level 2 Environmental Science (image processing using ERDAS). -    Oct 2006- Dec 2007 Demonstrator and teaching assistant as required in Hydrology Workshops in Level 1 Environmental Science. -    Oct 2006- Dec 2007 Demonstrator and teaching assistant as required in GIS module in Level 3 Environmental Science. -    Nov 1995– Jan 2005 Biruni Remote Sensing Center (BRSC), Tripoli, Libya
.
Tasks included image processing and remote sensing applications analyst. During these posts I have developed my skills in remote sensing, as well as the following computer skills: Microsoft Office facilities, CorelDraw Graphics, Paint Shop Pro Photo, Image processing packages (including ERDAS Imagine, ENVI and ER Mapper) and GIS (including Arc GIS) packages. From Oct 2002- Nov 2004 a director of Application remote sensing department.
- Feb 1992- Sep 1995 Agriculture Ministry, El Zawia –Libya.   Task: Member of management staff. E.g. provide advises to farmers and run agriculture activities programs.
-    Jan 1990- July 1991 Voluntary work "military service".
Training
-    Space cartography course, by GDTA professional training in satellite imagery applications, 8
th
– 19
th
of April 2002. Ramonville St-Agne Cedex, France -    ER Mapper advanced training course, by the Earth Resource Mapping, 9
th
– 17
th
of December 2002. London, UK
Memberships 
A member in United Kingdom Remote Sensing and Photgrammatry society
Interests
Traveling to discover other cultures, swimming and playing football, reading books, meeting people and making new friends.
Full Research