Abstract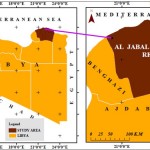 During the past 30 years, the Normalized Difference Vegetation Index (NDVI) has been
widely used for vegetation mapping and monitoring land-cover change in semi-arid regions.
Most of Libya is desert, but semi-arid lands occupy many parts in the north, near the
Mediterranean Sea. The overall aim of this paper is to use remote sensing technique
(NDVI) for monitoring vegetation degradation in Al-Jabal Al-Akhdar Region in Libya.
In this paper the Pathfinder AVHRR Land (PAL), SPOT Apparent Green Cover Percentage data
and MODIS Vegetation index are used to monitor the vegetation cover change in the area.
In this work, we demonstrate the possibility of use of only long term NOAA-AVHRR NDVI timeseries
data, without need to any precipitation data, for assessing desertification conditions in Jabal
Al-Akhdar Region in Libya.
It can be concluded that northern parts of the area receive the greatest amount of rainfall towards
the Mediterranean Sea. Rainfall occurs mainly between October and May, it agreed well with the
spatial pattern of NDVI within monthly averaged of vegetation, which start increasing rapidly and
reached a greater amount during spring (March-May), and decreased during June to September.
Annual rainfall in the study varies between the south and north of the area. It was agreed with
spatial distribution patterns of NDVI which ranges from less than -0.3, 0% and 0.00 in the southern
part of the area to more than 0.10, 16% and 0.62 in the northern part of the study area.
In view of these results, it is suggested that the dominant cause at the spatial and temporal scales
are the structure of the rainy season (distribution, concentration) with other causes such as
population increase, livestock farming and government planning and their effects in vegetation
degradation.
Abbreviations: NOAA: National Oceanic and Atmospheric Agency, NDVI: Normalized
Difference Vegetation Index, AVHRR: Advanced Very High Resolution Radiometer and MODIS:
Moderate Resolution Imaging Spectrometer.
Writer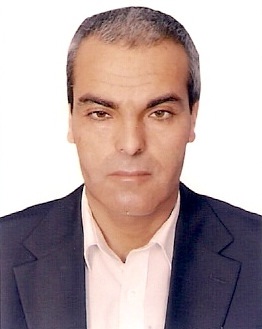 Dr. Abdussalam Ahmed Ibrahim
Personal Details: Full Name: Abdussalam Ahmad M. Ibrahim Place of Birth: Tarhuna, Libya Nationality: Libyan Languages Spoken: Arabic: Native language, English: Excellent Address: PO Box 2328 Midyin Al- Jzyir, Post Office, Tripoli, Libya Tel: 00218913211677, Email: abdussalam_ibrahim@yahoo.com Area of General Specialization: Environmental Sciences, Physical Geography, Remote Sensing, GIS and Future Climate Modelling SDSM. Area of Narrow Specialization: Digital Images Processing, Applications of Remote Sensing for Environmental, Applications of GIS, Spatial Analysis and future climate modelling SDSM. Education PhD. In Geography and Environmental Sciences, 2010, University of Reading, Reading, UK. Thesis title: Modelling the relationship between climate and vegetation in theTarhuna region, Libya, using spatial modelling techniques. MSc. in Physical Geography, 1999, Bangazi University, Bangazi, Libya. Dissertation title: Desertification in the Eastern part of the Jifarah Plain, Libya. Postgraduate Diploma in Physical Geography, 1997, Bangazi University, Bangazi, Libya. Postgraduate Diploma in Physical Geography, 1995, Tripoli University, Tripoli, Libya. BSc Geography, 1991, Nasser University, Tripoli, Libya. Remote sensing, GIS & Database learning skills 1- Database and Administration Systems (oracle). 2- Earth Observation by Remote Sensing. 3- Statistics Training Courses and data analysis by GenStat software. 3- Learning Arc GIS 9.1, ESRI Course. 4- Learning Arc GIS 9.1, 3D Analyst, ESRI Course. 5- Learning Arc GIS 9.1, Spatial Analyst, ESRI Course. 6- Learning Arc GIS 9.1, GIS Application, ESRI Course. 8- Geostatistics for environmental (Kriging) course. Training & Consulting Strategic & Operational Planning, German Jordanian University, Amman, 2013. Academic and Administrative Experience • Jun. 1994-Nov. 1999, Administrator, Nasser University, Tarhuna, Libya. • Dec. 1999-Spet. 2003, Assistant lecturer, Nasser University, Tarhuna, Libya. • Sept. 2003-Apr. 2004, Lecturer, Nasser University, Tarhuna, Libya. • Oct. 2011 – present, Assistant Professor, Azzaytuna University, Tarhuna, Libya. • Des. 2011- Present, Postgraduate Teaching of Physical Geography, Remote Sensing, GIS and Future Climate Modelling SDSM, Libyan Academia, Tripoli, Libya. • Sept. 2012- Present, Postgraduate Teaching of Remote Sensing, GIS and Future Climate Modelling SDSM, Tripoli University, Tripoli, Libya. • Mar. 2012 – present, Head of Sector of Planning in Tarhuna area, Ministry of Planning - Libya • Oct 2007-Jun 2009, laboratory, Undergraduate Teaching of Remote sensing and GIS. Geography and Environmental Science Department, Reading University, England • Jan 2009-Feb 2009, Desert Immigration Project, Fieldwork experience using GPS technology and total station. • Sept. 2002-Apr. 2004 Undergraduate Teaching, Environmental Sciences Department, Nasser University, Tarhuna, Libya. • Sept. 1999-Apr. 2004 Undergraduate Teaching, Geography Department, Nasser University, Tarhuna, Libya. • Jan 2000-Dec. 2003, United Nations development regional representative, development mapping project (LIB /01/001. 2000-2005), Tarhuna, Libya. LIB /01/001 UN project was between the national commission for Information and Documentation and the United Nations Development program. I was responsible to collect quantitative data and to apply field explorations related to the determination of a development map within the municipalities and to diagnose the demographic economic and social differences. • Dec.1999-Aug. 2002 Head of Geography Department, Nasser University, Tarhuna, Libya. • Sept. 2003-Apr. 2004, Head of Environmental Sciences Department, Nasser University, Tarhuna, Libya. • Sept. 2002-Apr. 2004, Libraries Management Administrator, Nasser University, Tarhuna, Libya. • Sept. 2001-Apr. 2004, Higher Education Administration Officer, Nasser University, Tarhuna, Libya. • Sept. 1999-April. 2004, Head of Geography Department, Nasser University, Tarhuna, Libya. • Taught Courses: 1) Undergraduate Courses - Photogrammetric, Geographic Information Systems (GIS), Applied GIS in Environmental , Remote Sensing, Applied Remote Sensing in Environmental, Climate, Desertification 2) Graduate Courses -Advanced Remote Sensing & GIS, GIS Application, Climate change, Future climate modeling, Advanced physical geography. • Supervised Theses: 1) Master Thesis entitled: "Modeling Vegetation Degradation in Al Qarabulli area, Libya Using Spatial Modeling Technique. Tripoli University, Libya, 2013. 2) Master Thesis entitled: "Modeling Vegetation Degradation in Al Ajaylat area Using Spatial Modeling Technique. Tripoli University, Libya, 2013. • External Examiner of Thesis: 1) Master Thesis entitled: "Study the spread of pollutants resulting from the power station of west Az Zawiyah using the ISC3 system", Libyan Academy, Tripoli 2012. 2) Master Thesis entitled: "Climate variability and its impact on rain-fed agriculture in the area of Zliten, Libya", Libyan Academy, Tripoli 2012. Personal Qualities and Technical Skills I am a very hard working individual, and I am trustworthy, punctual and efficient in all the work that I carry out. I work well as an individual and as part of a team. I have experience of analysing data with of GIS software, ERDAS software and Gen stat, other statistics some knowledge in Illustrator, Oracle and I am competent in all Microsoft Office applications, Windows XP. Awards University of Reading (2007) PGC Research Award of SHES. University of Reading (2008) PGC Research Award of SHES. Interests/Hobbies I like reading books. I am also interested in internet surfing. Publications Books 1- Ibrahim, A.A.M. & Sager, I.A. 2005. Desertification in the Eastern part of the Jifarah Plain, Nasser University Publications, Tripoli, Libya, Pp 250. 2- Ibrahim, A.A.M. & Alhaiti, I. 2005. Remote Sensing- Principles & Applications, Nasser University Publications, Tripoli, Libya. Publications 1. Ibrahim, A.A.M. 2013. Estimation of future temperature change in Misurata area – Libya by using statistical downscaling method (SDSM).The 5th International Conference on Water Resources and Arid Environments. January 2013, Riyadh, Saudi Arabia. 2. Ibrahim, A.A.M. 2010. Production of digital climatic maps using GIS Geostatistical techniques (Ordinary Kriging) case study from Libya. The 4th International Conference on Water Resources and Arid Environments, December 2010, Riyadh, Saudi Arabia. 3. Ibrahim, A.A.M., 2003. The urban growth and Environmental problems (Tripoli case study). The Third Arabic Geographical Conference, October 2003, Riyadh, Saudi Arabia. 4. Ibrahim, A.A.M General Problems on the rains in Tarhuna region. The Seventh Geographical Forum, Sept. 2001, Misallata, Libya. 5. Ibrahim, A.A.M Cusses of Desertification in the region of Khalij Sirt. The First Scientific Conference, the Natural Resources in the Khalij Sirt, November 1999, Sirt, Libya. 6. Ibrahim, A.A.M 1999. Climate and Agriculture in North-Western Libya. The Sixth Geographical Forum, Sept. 1999, Derna, Libya. 7. Ibrahim, A.A.M. 1997. Causes and features of desertification (case study, Libya). The First Scientific Symposium on Water and Desertification problem, July 1997, Tripoli, Libya. References 1. Dr. Kevin White, Environments Remote Sensing, Earth system science Research Group. School of Environmental Science. The University of Reading Whiteknights Reading RG6 6AB UK. Tel 0118 3787752 Fax 0118 9755865, Email k.h.white@reading.ac.uk, url: http://www.rdg.ac.uk/~sgswitke/ 2. Dr Geoffrey Griffiths, Landscape and biodiversity, Development of GIS/remote sensing techniques for predictive vegetation mapping, Human Environments Research Group, School of Environmental Science. The University of Reading Whiteknights Reading RG6 6AB UK. Tel +44 (0) 118 378 8737 Fax +44 (0) 118 9755865, Email g.h.griffiths@reading.ac.uk 3. Prof. Adel Radi. Damascus. Zaki Al Halabi Street No: 9, Tel: +963113342414 Email: paradiradi@yahoo.fr . 4. Prof. Khaleb Ben Mahmmod, Al-Fateh University, Tripoli Libya .P.O.Box 13538 .Fax 00218213616845
Full Research