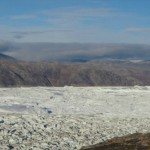 RIEGL goes for ultra-long ranges: VZ-6000 offers more than 6,000 m measurement range
Horn, Austria, September 24, 2012 – Especially designed for ultra-long range applications in topography and mining, the new High-Speed, High-Accuracy Terrestrial Laser Scanner RIEGL VZ-6000 offers ultra-long measurement range of more than 6,000 m for static applications. As the Laser Class 3B companion of the RIEGL VZ-4000, it is due to its laser wavelength exceptionally well suited for measuring snowy and icy terrain in glacier mapping, monitoring & surveying missions, as well as for specific applications in open pit mining. First fieldwork in Greenland this month exceeded all expectations.
Combined with the innovative RIEGL software package RiMINING, both, the VZ-4000 and the VZ-6000, offer an optimized and simplified data registration and processing workflow for surveying of extended areas. E.g., automatic extraction of break lines, contours, profiles and calculation of volumes make for more efficiency in the demanding open-pit mining fieldwork.
Experience the revolutionizing RIEGL mining solutions at MINExpo 2012 from September 24 -26, 2012 in Las Vegas at the RIEGL USA booth #5903. Our team looks forward to meeting you!