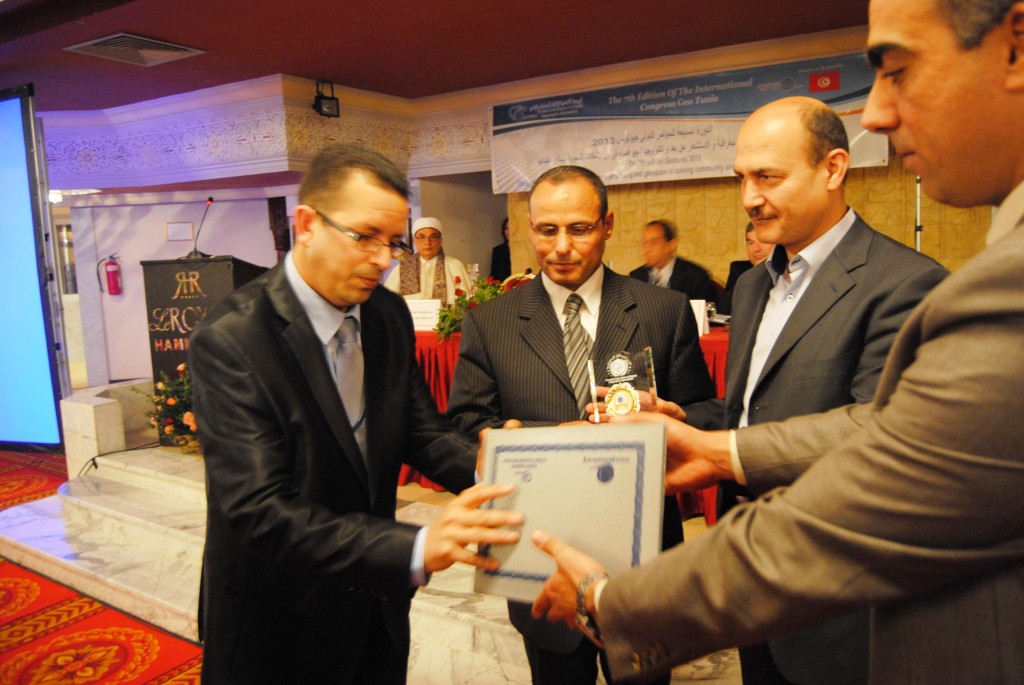 Dr. Monji Marzouk, Minister of communication and Information Technologies opened on Monday, April 8 2013 the activities of the 7th edition of the international congress geotunis held under the slogan:
Through geographic infrastructure we build the basics for sustainable development
At the presence of hundreds of experts and specialists from dozens of countries, the minister stressed in his word the importance of Geotunis, and the subjects prepared for discussion in economical development.
"In this occasion, I would like to highlight the importance of this event, which is about a current and important subject: GIS and digital economy used in the field of information is crucial for sustainable development, and communication network infrastructures. This congress is about the management of geographic information, its tool: GIS, information system and remote sensing, and it treats subjects which aims to establish a successful development plan relying on geographic information and aims to find serious solutions for environmental and social problems.
This congress is also about developing the geospace system and GIS which is considered vital today and which is not used only by certain institutions but also by common citizen; like smart phones and internet."
He did also highlight the importance of the use of GIS in different sectors and the need to build skills and competencies. He also mentioned the role of the Tunisian government in encouraging investment in this sector saying:
-          Considering the efforts of Tunisia after the revolution towards the democratization of   information and developing electronic governance by respecting transparency, we worked on reviewing the conditions of buying tools and information system and making the importation of computers easier and raising awareness about its use in a way that develops investment opportunities and creates employments.
-          We are encouraging investment in the field of geographic systems and its applications; we are as well ready to cooperate with international and national institutions to develop this sector and creating employment opportunities for university graduates.
-          We are aware of the importance of GIS and its role in the method of saving and managing data and thus, in making decisions. Hence, we worked with other parties such as the National Mapping and Remote Sensing. Center on GIS solutions Creation of an updated database relying on "geolocalization"
National and international presence in the opening ceremony of the 7th edition was remarkable, which proves the importance of this technology and its role in development and in solving different phenomena. Geotunis is considered as one of the most important congress about digital geographic technologies and GIS, and thanks to its academic role and its role in investment in addition to direct and indirect international partnership.