Abstract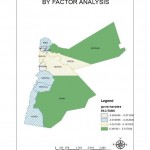 The goal of this study is to determine the potential development in the Jordanian twelfth governorates by mapping the potential growth they witness, in addition to helping the planners and decision makers in taking the appropriate growth decisions.
By reviewing many previous studies, a gap was found in the study of regional variation, where the studies did not collect between the variables describing the various aspects affecting the regional development.
Where as, secondary data was gathered from human and natural characteristics of the cases studied (ranging from governorates administrative supervision), which was gathered from several related government departments, reaching (60) variables, where one describes a characteristics of the cases examined by demographic, economic, functional, and environmental aspects.
By employing a method of factor analysis (basic components), five factors were derived by explaining about 85% of the variation in the original variables.
Then cluster analysis was used to classify the governorates of Jordan within four main types of possible designation as follows: First: The pattern of high dominance and development;
Second: The Medium style of development;
Third: The pattern of promising and attractive development; Fourth: The weak pattern of development.
In light of this; by using geographic information systems, a map was done to show the development potential for the governorates of Jordan, and help decision-makers and planners in taking the appropriate growth decisions.
Writer
Full Research